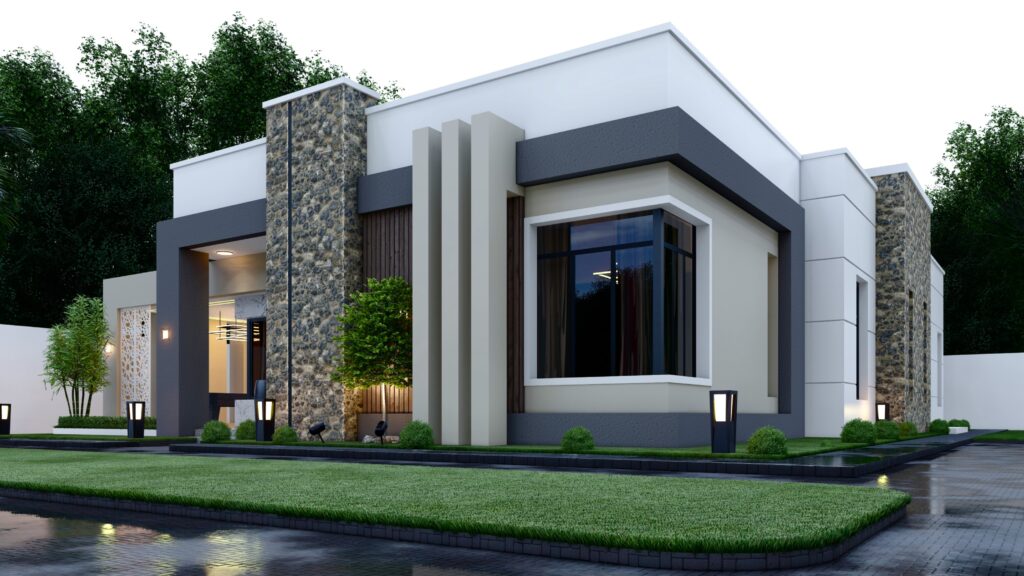 Introducing the epitome of comfortable and stylish living – our meticulously designed 3-bedroom bungalow house plan. Nestled in the heart of architectural innovation, this residence seamlessly blends modern aesthetics with practical functionality, creating a haven for families seeking the perfect balance of luxury and convenience.
As you approach the entrance, you'll be captivated by the charming façade that exudes timeless elegance. The carefully landscaped front yard welcomes you, setting the tone for what awaits within. Step through the inviting foyer, and you'll find a spacious and open-concept living area bathed in natural light. The carefully curated design allows for seamless flow between the living room, dining area, and kitchen – perfect for entertaining guests or enjoying quality family time.
The heart of this home is undoubtedly the kitchen, where form meets function. Featuring top-of-the-line appliances, ample counter space, and a thoughtfully designed layout, this culinary haven is a chef's dream. The adjacent dining area, bathed in the glow of strategically placed lighting fixtures, creates an intimate setting for family dinners or hosting guests.
The three bedrooms are strategically positioned for maximum privacy and comfort. The master suite is a sanctuary of relaxation, boasting a spacious layout, a walk-in closet, and an ensuite bathroom with modern fixtures. The remaining two bedrooms are equally well-appointed, offering flexibility for guest rooms, home offices, or a growing family.
But the true magic of this bungalow unfolds when you step outside. A carefully planned outdoor living space beckons, whether it's a morning coffee on the covered patio or an evening barbecue with loved ones. The landscaped backyard provides a tranquil retreat, surrounded by nature and perfect for creating lasting memories.
Energy efficiency and sustainability are at the core of this design, with eco-friendly features seamlessly integrated into the architecture. From energy-efficient windows to solar-ready roofing, this bungalow not only enhances your quality of life but also minimizes its environmental footprint.
This 3-bedroom bungalow house plan is not just a home; it's a lifestyle. A harmonious blend of luxury, functionality, and sustainability, it represents a new standard in modern living. Experience the allure of this architectural masterpiece and make your dream home a reality. Welcome to a life of comfort, style, and endless possibilities.